Popular Coleman Sleeping Bags, Cold Weather
Popular Coleman Cold Weather Sleeping Bags
Coleman Dunnock Big and Tall Cold Weather Adult Sleeping Bag
This comfy, warm Coleman Big and Tall Dunnock Cold Weather Sleeping Bag is great for tent camping. There is plenty of room to roll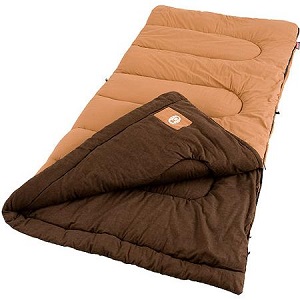 around in this bag and it works great for the taller person. These sleeping bags are designed for big and tall guys and equipped with five pounds of Coletherm insulation for a cozy night's sleep.
Comes in a Polyester Orange Cover with brown soft cotton flannel liner. Good for cool weather conditions with temperatures as low as 50 to 30 degrees. Measures 39" x 81" and the Coleman Big and Tall Sleeping Bag fits most tall people up to 6' 4".
This 20 to 40 degree adult sleeping bag features a cotton cover with a soft cotton flannel liner and a comfort cuff that surrounds your face with extra soft material, making for a cozy and warm night's sleep outdoors.
Others have used it for added comfort and warmth while sleeping on their in home air mattress, sleeping in their 18 wheeler cab, sleeping on their boat and sleeping in the car while camping. If you have a king sized air mattress then zip two together. If you are planning on sleeping on the ground then you might want to consider one of the sleeping pads shown below to give you added comfort.
Available Online at: Overstock.com Ebay.com
---
Coleman White Water Big and Tall 40-Degree Sleeping Bag
This is another great Coleman Sleeping bag for cool temperatures. If you are searching for a sleeping bag that is nice and roomy then you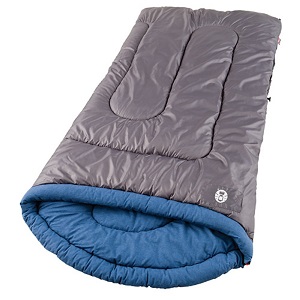 will like this Coleman White Water. This Coleman White Water 40 Degree sleeping bag features Coletherm insulation and is cotton flannel lined with a polyester cover. The Quick-Cord system makes it easy to fasten without tying.
It also has a stitched and contoured head for your sleeping comfort. The Thermolock feature prevents heat loss through the zipper. This Coleman big and tall sleeping bag for big guys includes loop fasteners that make it easy to fold-up.
The patented zipper system plows the fabric away to avoid snags. Dimensions are: 39" x 84". Rectangle shape and fits most adults from tall to big sizes up to 6' 4" in height . Completely unzips so it can be laid flat.
Sleeping bag is washable but it is recommended that you use a front load industrial washer.
Weight: 4 lbs.
Available Online at: Overstock.com Ebay.com
---
Coleman Big Game -5 Degree Canvas Sleeping Bag
The Coleman Big Game has 6 lbs. of Coletherm Insulation, a 10 oz cotton canvas cover and a cozy cotton flannel liner to keep you warm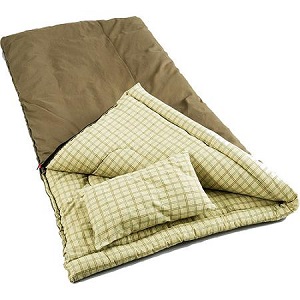 and comfortable to temperatures of minus 5 degrees.
The large size fits most individuals up to 6'5" and includes a 12" x 20" cotton flannel pillow for your sleeping comfort.
Simply zip two matching bags together to create a double sleeping bag. The two-way zipper will let you allow airflow at the foot of the bag to regulate temperature when the weather is warmer. Features a ZipPlow that plows fabric away from the zipper, preventing snags, which is one of the last things you want to encounter in cold weather.
With the Wrap 'N Roll™ system you simply rool bag into attached carrier.
Full cover construction on this bag locks in heat by eliminating quilting cold spots.
Commercial machine washable.
There is no top or bottom to this bag so if you want a left or right zipper option then you can just flip the bag open.
Available Online at: Ebay.com
---
Coleman North Rim Extreme Weather Mummy Style Sleeping Bag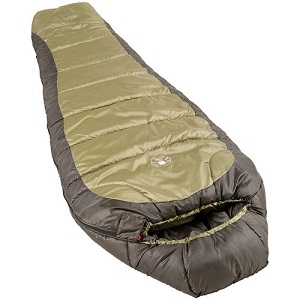 To keep you warm on the coldest of nights the Coleman North Rim Extreme has a 0 degree Fahrenheit temperature rating. It is a mummy style sleeping bag that fits adults up to 6' 2" tall.
This bag is filled with 60 ounces of Holofil 808 insulation and is made of diamond ripstop polyester cover material as well as a polyester lining material to help prevent rips and tears.
Comes with a useful sack storage that can also be used for storing other items that may be affected by extreme weather conditions.
Machine washable and weighs 5.2 lbs.
Available Online at: Ebay.com
---