Best Inflatable Air Bed
Last Updated June 23, 2018 Inflatable air beds for kids are very comfortable, compact, portable and perfect for apartments or homes with cramped spaces. Inflatable Air Beds are great to use when traveling with your child. Use them in hotel rooms or at their grand parent's house.
Inflatable blow up beds for kids and adults are great to use when you have extra guests in your own home. Here are some of the top rated inflatable air bed mattresses from which to choose:
Best Inflatable Air Bed For Kids

Lets start with the kids.
Actually there are three blow-up beds that have gotten really good reviews by others who have purchased an inflatable travel air bed for their kids.

First one is The Shrunks Tuckaire Toddler Inflatable Travel Bed

When you are going on vacation you need a good sleep solution for your child. The Shrunks Tuckaire Toddler Inflatable Travel Bed is a good solution.

Other parents have had good experiences getting their child to sleep on this Toddler Inflatable Bed. Many children think it is more fun than sleeping on their own big bed.

This air mattress is also great for "sleep-overs" and transition from the crib or mom and dad's bed to the "big bed".

Even though the Shrunks Tuckaire Travel Bed is easy to pack in the car or some luggage you might just want to keep one at grandma and grandpa's house all the time.
The Shrunks Indoor Tuckaire Toddler Portable Inflatable Travel Bed
It includes the Jetaire™ electric pump which makes inflation and deflation fast and easy. The Shrunks' Travel Bed is consturcted with safe materials and contains no Phthalates, BPA or lead, which makes it non-toxic.

The patented "Tuckaire" System allows for normal crib sized sheets and blankets to be tucked into the inner mattress so that your child will feel secure and cozier.

The raised sides help keep your child from rolling off, even though it is not that far to the floor.

However, some consumers have pointed out that there are no raised areas for the top and bottom and because of this the pillow will work its way off the bed as your child moves around during the night. Their suggestion is to put the bed in a corner in order to help keep the pillow on the bed.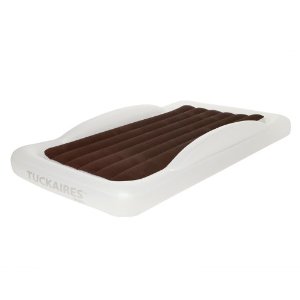 This portable toddler bed is not only easy to inflate and deflate it stores away in its on bag in very little space.

The maximum weight recommendation for this air mattress is 100 lbs.

Another important use for the The Shrunks Tuckaire Toddler Inflatable Travel Bed is for emergencies. Perhaps you need to temporaily help out a family having lost their home due to some unexpected emergency.
If you have a church affiliation that provides shelter for the homeless or you help support a local shelter your may want to contribute one or more of these travel beds to help with families that need shelter for the night.

Whatever your needs you definitely get your money's worth with this one.
It is available on Walmart.com and if they are sold out then you can also find it at Ebay.com.



AeroBed Sleep Tight Child Size Inflatable Bed for Kids
Second is the AeroBed Sleep Tight Inflatable Air Bed for Kids.

When you travel with young kids you will usually need to think about where they are going to sleep; even if it is just at grandma's house.

It is no fun to rely on sleeper sofas, rollaway beds or even worse to have the kids sleeping in the bed with mom and dad.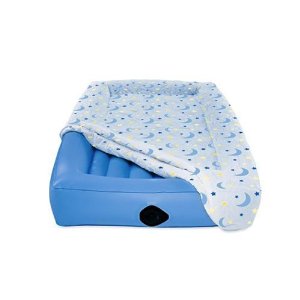 The Aerobed Sleep Tight inflatable bed is a much better solution. When deflated they don't take up much room at all and they are a breeze to inflate for use when on the road. So, they are great for on the road and for having sleep overs in your own home.

The Aerobed "Sleep Tight for Kids" is designed specifically for kids 3 and up. It has a raised safety cushion around all sides, and at 25" x 50" it is large enough for all that wiggling during the night. And there is no worry about them rolling over the sides and ending up on the floor.

Like other Aerobeds, the Sleep Tight comes with an AC pump that allows you to inflate the bed in under a minute and them when it is time to deflate, thanks to a large valve, it happens in under 15 seconds.
The blow-up bed comes in a lightweight carrying bag with shoulder strap. Also included is a washable, thick, fitted (secures with elastic straps) mattress pad with a cute moon and star design.

The uses are endless for this kid friendly inflatable air mattress. You can easily carry it along with you in the car or even in luggage during air travel.

The size of the bed is plenty big for a comfortable night's sleep for your child, yet tucks neatly next to the big bed in a hotel room.

Purchase one or more and leave them at grandma's house so it will already be there when you visit. Or, if you are grandma, then go ahead and have them available when the grandchildren arrive.

Take them on camping trips or use in RVs when traveling. As we said earlier use them in your own home when you have other kids during a sleep over. They are really even a lot of fun for kids to camp out in tents in their own back yard.

Another important use for the Aerobed Sleep Tight Inflatable is during emergencies.
Maybe you need to help out a family having gone through storm damage or fire damage to their home.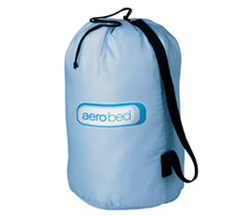 If you have a church affiliation that provides shelter for the homeless these are great to help with families that need a place to find shelter for the night.

Kids love sleeping on the Aerobed so much that they often don't want to go back to their real bed when you return home. You may have to make a deal to allow a once a week, or so, sleep party with their friends so they can sleep on the inflatable bed.

The Aerobed Sleep Tight has a weight limit of 150 lbs and when packed in its bag the bed, bag, pump and sheet weight just over 11 lbs.

It is very durable because it is constructed of heavy-duty PVC and has electronically welded seams. You definitely get your money's worth with this one.

Click to purchase at: Ebay.com..
LazyNap LZ-01K Kids Air Bed Mattress with Flocked Top
Third we have the LazyNap LZ-01K Kids Air Bed with Flock Top for Camping, Sleepovers and Nap Time.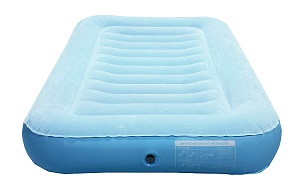 This toddler air bed is reported to be very comfy and with its easy to use hand-held 2-in-1 external AC air pump 110V can inflate or deflate the kids air bed in approximately 3 minutes. A special one way intake valve insures no air is lost during the inflating process.

LazyNap dimensions are 62" x 39" x 9" and the supported max weight is 132 lbs. It has PVC sides and bottom and a soft flock top for comfort and noise reduction.

Comes with a travel bag and is recommended for kids 3 years and up.
The small size makes it great for use with children in hotel rooms. As you can see the edges of the air bed are a little taller and that helps prevent children from rolling out of the bed when sleeping.

The LazyNap Kids Air Bed can be found on
Ebay.com
Regalo My Cot Portable Toddler Bed, Pink and Royal Blue
Here we have the popular Regalo My Cot Portable Toddler Bed for kids which is great for home use, camping or travel.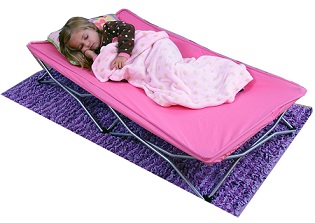 Give your son or daughter their very own bed when you travel. They will love having their own private cot bed and you will too.

The Regalo My Cot has an easy fold and go system and is great for indoor or outdoor use while camping.
Included is a travel carrying case and a washable fitted sheet. If going to be gone for an extended stay then you might want to get extra sheets.

This folding travel toddler bed only weighs seven pounds and accomodates a child up to 75 lbs. Designed for ages 2 and up.

There is really no setup as it folds up in seconds.
You might want to get this bed for your toddler a few weeks before you travel and let your child sleep on it at home so it won't also be something new in the unfamiliar hotel room. Kids love these cots just for nap time at home also.

The Regalo My Cot can be found on Walmart.com and Ebay.com Check them out. Available in pink and royal blue.
Next Come The Adults....
Inflatable Air Beds For Adults
Inflatable air beds are available for adults as well. They come in different styles and sizes. You can get a twin, queen, king and raised version.

Some people have found that an air mattress bed helps with back pain or arthritic joints. It depends on the reason for your back pain. It is one of those things that you might just have to try for yourself to see what kind of relief you can get.

If you live in a storm ravaged area and you find yourself taking in people that have been displaced from their homes for a period of time then air beds are a perfect solution for beding.

You may be running a shelter for families who have lost their home, evacuees due to some disaster or you may be simply taking these people into your own home during their time of need.

Air Beds are a perfect fit for temporary needs such as this. They are much more comfortable than cots or pads and they can be deflated and easily stored for the next temporary emergency situation.
Aerobed Raised
If you are a kid then you probably don't mind not being very high off the floor. However, as we get older getting up and down from that distance seems to be a bit more trouble.

So, an Air Bed that is Raised more off the floor might be a better solution for adult guests or for yourself when camping or traveling. Another good use for an air mattress bed is when you are moving to a new home. You may get there several days before your furniture does and an air mattress will be a lot more comfortable than sleeping on the floor.

AeroBed has several nice air bed raised solutions for adults.
Aerobed® Opti-Comfort Queen Air Mattress with Headboard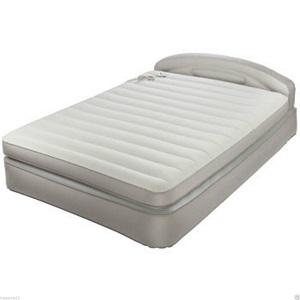 The Aerobed® Opti-Comfort Queen Air Mattress might just be the raised air bed that will be a more comfortable fit for you.

It is raised to an 18" bed height which makes getting in and out of this Aerobed inflatable bed a lot easier.
You or your guests can not only sleep in the lap of luxury but also enjoy reclining against the integrated headboard. Headboard also helps keep pillows in place while you sleep on this OptiComfort bonded fabric surface.

This inflatable bed is 90% more puncture-resistant, 20% lighter and uses 30% less PVC thatn standard AeroBed® air mattressess of the same size.

Built-in Perfect Pressure™ pump provides easy inflation without holding a button.

The pump control wand lets you adjust the firmness to your liking without getting up.
4-layer construction is similar to a traditional bed and provides extra support for a more restful night's sleep.
Fits standard queen size sheets that you can tuck in. Supports up to 600 lbs.
Inflated dimensions: 78" x 60" x 18".
Click to purchase from Ebay.com
AeroBed Hi Rise Premium Queen Headboard Airbed
(with Enhanced Durability, 18" High, Built-in pump, Carry Bag )
The AeroBed Hi Rise Premium Queen Headboard Airbed is reported by those who have purchased as having excellent comfort and great durability.

With the built in pump it pumps up quickly, is easy to deflate and stores nicely in a small space. It is a great solution for extra guests or by use yourself.

Uses standard Queen sized sheets.

You should love the quality and comfort of this airbed primarily for adults.

The headboard is flocked for comfort, providing neck and head support while keeping your pillows in place.

Click to purchase at: Ebay.com or Walmart.com
Additional Air Beds for Adults....
SimplySleeper SS-49T Raised Twin Air Bed
with Built-in Electric Pump (Puncture & Stretch Resistant)
If you plan to use your air bed on a regular basis and not just occasionally then you will find this SimplySleeper to be more comfortable on your back. It is the flattest and the easiest to get out of.

It is a true twin mattress size and will stay inflated for weeks.

It has a built-in pump that inflates the bed in about 2 minutes. Will deflate in about the same amount of time. Bed when inflated has a supported weight of 400 lbs.

It is made of unique three-layers of lightweight, puncture resistant, stretch resistant, waterproof, soft touch and air-tight materials.

Very comfortable for holiday guests, dorms and travel (hotels, relatives homes, etc.).

Click to purchase: Ebay.com.

Coleman Air Bed

Coleman Twin-size Quickbed 4-in-1 Air Bed for Adults
with wrap-and-role design for easy storage....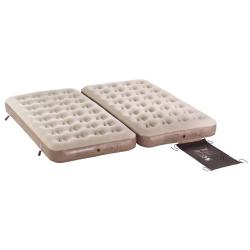 This inflatabe twin-size air bed is great for sleepover parties, extra guest bedding during the holidays or camping out.

The Coleman Twin-size Quickbed can be used as two twin-size beds, a king-size bed or one two-level twin-size bed.

This is a great solution if you are moving and need a comfortable bed until you are able to get your 'real' bed in place. Afterwards it can be used as twin beds for the children or grand-children when they come to visit.

"...My husband and I are large (to say the least), and it supported us very well, and I even topped it with a 4" memory foam topper (very heavy too) for the month I used it, no problem, seams held, no punctures, it's a very tough and well-made air mattress!" Customer Review Overstock.com

Each bed inflated dimensions: 74" long x 39" wide x 5" high

Click to purchase: Overstock.com.
2 in 1 Airbed Portable Beds
Queen Air Bed Mattress Inflatable Mattresses 2 in 1 Airbed Blow Up Portable Beds
The 2 in 1 Queen Air Bed includes two air mattresses that can be stacked and locked into place for a 17 inch high double bed or used as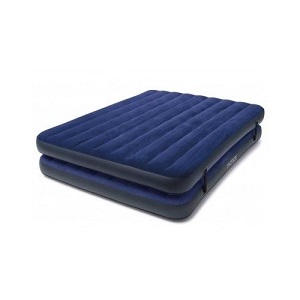 two separate queen size beds. Great for your next camping trip or as a comfy couch alternative for your next over night guests.
This 2-in-1 air bed deflates completely and folds easily for carrying or storage. This makes it an ideal sleep solution for camping, travel or home.
The airbed is capable of holding weights of up to 600 lbs., easily accommodating more than one person when stacked or several people when unstacked.
Both air mattresses have soft-flocked mattress tops that are velvety to the touch. Includes a high output hand pump that inflates and deflates.
It is great to use when you have guests in your home or to carry with you when you travel to someone else's home or are staying in a hotel with extra family in one room.
Each individual inflated bed measures 60" x 80" x 8.76".
Popular item at: Ebay.com
Polyurethane Foam RV / Truck Mattress Bed Cushion
4 Inch Firm Conventional Polyurethane Foam Mattress Bed Cushion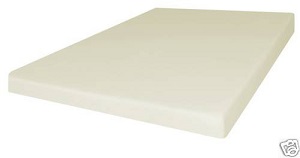 Enjoy the benefits of a firmer sleep surface by adding this firm polyurethane foam mattress topper to your existing spring, inflatable or even memory foam mattress. This topper will add comfort, increase firmness and increase the quality of sleep from your current mattress immediately.
The open cell urethane foam is specially formulated to help support the contours of your body and will give you the extra support you need to get a good night's sleep.
This company uses environmentally friendly processes to make their foam, making them eco-friendly.
4" layer of Firm Superior Support Foam for spinal alignment and transitional support, features a 33 lb compression.
Comes in Twin Extra Long, Full Size, Queen Size, King Size and Califormia-King size. USA Made.
Good for use on your home mattresses, in RVs, in Campers or to top an inflatable mattress most anywhere you use one.
Available online at: Ebay.com
Best Frames for Air Mattresses and Regular Mattresses
If you have trouble getting up and down from an air bed, even the raised air beds then you may want to place it on a good bed frame.
Inflatable air mattresses are growing in popularity and if you have ever slept on one then you can understand why. These mattresses are no longer an inexpensive way to imitate a traditional bed mattress.

Kids are usually just as happy, if not happier, to have their air inflatable bed directly on the floor. Where adults would most likely find it easier to get up and down from their bed if it is raised up by a mattress frame.

Adults with back problems often find an air mattress will give them a much better nights sleep than a traditional mattress but don't really want to have to get up and down all the way from the floor.
Spa Sensations Steel Smart Base Bed Frame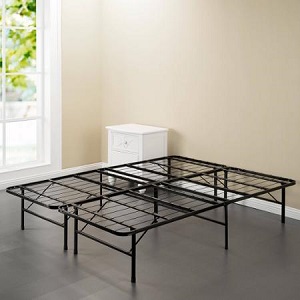 Consider this Bed Frame over a regular box spring. If you want some height off the floor, yet want something reasonably priced then consider this light-weight, sturdy Bi-Fold folding steel bed frame.

This slumber 1 bed frame with maximum weight capacity will provide ultimate support for twin, queen, twin XL, king, California king or full size mattresses. Its 12 contact points between the mattress and floor offer that rock solid support and stability.

This sturdy frame is equipped with caps on legs that helps to keep your floor scar and mar-free.

The Spa Sensations Smart Base bed frame has a midnight black finish that will complement any decor.

If you want to get off the floor and don't really want a traditional bed frame and box springs then check out this Spa Sensations Steel Smart Base Bed frame.
Reasonably priced at: Walmart.com Also available and priced right at Ebay.com


Mattress Pad for Air Mattress
A lot of the air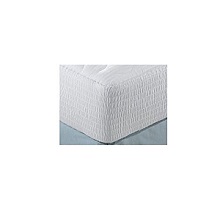 mattresses accept standard sized sheets and pads. A standard twin sized pad and sheet will fit the Aerobed For Kids.

Mattress pads can not only make an air mattress more comfortable but it can help eliminate the noise factor involved when turning over on an air mattress.

Croscill has a nice Pima Cotton Mattress Pad for a Cal King Sized air mattress or bed that has a very soft 100% cotton top cloth. It is the: Croscill Pima Cotton 400-Thread-Count Mattress Pad

This pad fits the mattress well and doesn't move around, even after being washed.

It is soft, plush and comfortable. You will be able to wake up without sore hips and shoulders.

Dimensions are: 72" x 84"
Click to purchase at Ebay.com
Deflating a Coleman Air Mattress Video
The Many Ways To Use Air Beds
Dorm Room - many students like to use an air bed in their dorm room or off campus apartment because they are comfortable, inexpensive and easy to move.
Guests - if you have extra guests then it is quick and easy to get your air bed out of storage and quickly pump it up for comfortable bedding for everyone.
Kids Nap Time - Kids love the air beds made for them when it comes to taking that afternoon nap.
Adults with Back Problems - many adults with back problems have found sleeping on an air mattress to be much more comfortable than sleeping in the regular bed.
Camping - air mattresses are much more comfortable than sleeping on the ground when camping out. There is an air bed designed for SUVs if you prefer to sleep in your vehicle.
Transition Bed for Kids - many children have a hard time moving from the crib to the big bed. Parents have found that using an air bed for kids as an interim step to be a much easier transition.
Moving - when moving to another city an air bed makes for a good night's sleep before the truck with all the furniture gets there and you have your real bed back.
Travel - when traveling you may wish to save on those hotel rooms by having someone sleep on an air mattress; especially the children.
Kids Sleepovers - when you kids want to have a sleepover you often need more bed room. That can be solved by keeping blow up mattresses stored so that you can quickly have all the bed room you need. Usually your own kids will want to sleep on the air beds along with the guests.
Vehicle Emergency Kit - if you travel a lot then you might want to keep a twin size air mattress stored in the hatch area. If you get stuck in one of those 20 hour interstate pile ups it would be great to get a little more comforable on your blow up air bed.
Bad Weather Shelters - If you have a basement or storm shelter you may want to keep one or more air beds ready for comfort while you weather the storm; especially if you have children that you might want to get to sleep through the bad weather.
Church or Mission Shelters - Many church or missions open up shelters for really cold nights during the winter. Air beds can be used for these nights and stored in a small space when not in use.
Links to Some of Our Other Sites.....
Christmas Gifts
Here you can find some fun and unique gifts for kids, your girlfriend, your boyfriend, mom, dad, friends and even the pets.

Car Seats for Baby
Getting the right car seat for your baby is the most important thing to you especially if you have a new baby. Click here for good information about baby car seats.
Bananagrams Word Game
If you need a fun and easy word game to keep the children occupied on long car rides, while waiting in the doctor's office or to entertain them at grandma's...
Toy Chest for Boys
Little boys have lots of toys and really need a place to call their home. Check out these toy chest for boys to fill that need.

"Affiliate Disclosure: Most of the links on this site to other retailer sites are affiliate links, which means that if you click on the link and make a purchase at that site I will receive a commission on your purchase. I appreciate and Thank You for your support."
"CSP, Inc. is a participant in the Target Affiliate Marketing Program, an affiliate advertising and marketing program that pays advertising fees to sites that advertise and link to Target.com."